The Agroprom Underground is a location featured in S.T.A.L.K.E.R.: Shadow of Chernobyl and S.T.A.L.K.E.R.: Clear Sky.
Overview
The Agroprom Underground is a collection of tunnels and rooms beneath the Agroprom Research Institute and connects to two places in that area - west of the first installation (outside the broken wall) and inside the walls at the second installation. You'll be able to find a lot of things here, including artifacts, bandits, mutants and of course Strelok's stash.
Appearances
Shadow of Chernobyl
This location is vital to the main storyline as Marked One must travel here to advance the quest to discover his origins. It contains two key pieces of equipment which make the next stage of the game easier - a Stalker suit and the Fast-shooting Akm 74/2
The Electro anomaly (found in the tunnel directly south of the entrance) in the Agroprom Underground can be a gold mine for artifacts, if one chooses to go down there between midnight and 5am.
Friar and his gang can often be found down here, particularly if one backtracks to the entrance after finding Strelok's group stash (Agropom).
It is the first location where the player encounters humanoid mutants, a Bloodsucker and at the end of the level, a Controller.
Clear Sky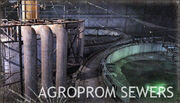 The Agroprom Underground has no artifacts, and not many valuables at all. You can get some stash info from people above ground, one of the stashes has an OG-7v warhead, another has 7.62 PP ammo. A room near the Controller has some health items and ammo, including a Medkit, two Army Medkits, a Scientific Medkit, 5.56x45mm SS109 bullets, and 5.45x39mm FMJ bullets.
There is a tank close to a exit, that has some molten thing flowed out of it and hardened. It looks like "the elephant's foot" in the CNPP.
Enemies and mutants
Shadow of Chernobyl
Upon entering - assuming you use the entrance Mole shows you - you will soon run into a hostile gang of bandits. Further in, many Acid anomalies will be found, as well as a single hostile bloodsucker, who may pose a problem to players with low level equipment. Afterwards, many soldiers are fought, and finally, a Controller.
Clear Sky
On your first time in the Agroprom Underground, you will encounter Bandits. If you are totally neutral or slightly hostile to the bandit faction they will open fire on sight. If you are slightly friendly to the bandit faction, they won't give you any trouble . Prior to the Bandits you'll encounter several Snorks, and a Controller. Some Rodents appear underground, but they are not hostile. Near the exit, you'll encounter four Pyrogeists. If you choose to return to the underground, you'll find Duty members. Whether they're hostile to you or not depends on your status with them.
See also
Gallery