Get out of here stalker!

This page contains spoilers to the game's final plot. It is advised you skip this section or page if you haven't completed the game yet!
This article details all possibles endings for S.T.A.L.K.E.R.: Call of Pripyat.
Description
Edit
Unlike the previous games which featured a cutscene as part of the ending, Call of Pripyat features a multi-part ending, covering the fate of the different areas and the different major characters encountered in the game. This takes the form of a narrated slideshow which details the fate of each character after the final escape from Pripyat and the evacuation of the Operation Fairway survivors.
The ending features a total of up to 20 different segments. Some segments have multiple possible outcomes depending on the player's actions throughout the game, while other segments only occur if the player has completed a relevant side quest.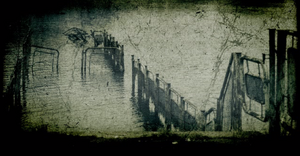 | # | Slide | Voice-over narration | In-game condition |
| --- | --- | --- | --- |
| 1 | | As a reward for successfully completing his investigation, Degtyarev was offered a promotion to Colonel and a position of mission coordinator. He declined the opportunity and submitted a personal request to be sent to the Zone as the USS permanent observer. | Default ending |
X Laboratories
Edit
| # | Slide | Voice-over narration | In-game condition |
| --- | --- | --- | --- |
| 1 | | The information about the development of psi-devices, obtained by Degtyarev, alerted USS commanders. All the information on X-designated laboratories was removed from military archives and filed as Top Secret. All personnel working in the Zone were ordered to prevent the disclosure of information about the laboratories at any cost. | Default ending |
Project 62
Edit
| # | Slide | Voice-over narration | In-game condition |
| --- | --- | --- | --- |
| 1 | | Several experimental samples were made on the basis of technical documents for item 62. Following a series of test trials, it was decided not to go ahead with large scale deployment of the weapon due to the high cost of ammunition. Nonetheless, it would be reasonable to assume that further secret development of the Gauss rifle is ongoing. | Default ending |
| # | Slide | Voice-over narration | In-game condition |
| --- | --- | --- | --- |
| 1 | | Sultan and his gang left the Skadovsk to do their shady business elsewhere after their attempts to capture the ship failed. The ensuing feeling of relative safety among stalkers led to a massive increase in the number of artifacts sold to Beard, causing his business to boom, while the formerly quiet Skadovsk bar became almost as popular as the famous 100 Rads bar, despite being almost in the center of the Zone. | Complete The Hit and Shady Business in Beard's favor and obtain the One of Ours achievement. |
| 2 | | Skadovsk became home to bandits; although all stalkers were forced to pay a tax, the number of disputes on the ship fell dramatically after a few unruly characters were made example of - by being thrown off the vessel to die in emissions. Unwilling to continue paying a cut of his proceeds to the bandits, Beard assembled a squad of stalkers and set off to explore the yet uncharted regions of the Zone. Sultan's social order settled firmly into place on the Skadovsk. | Complete The Hit and Shady Business in Sultan's favor and obtain the Boss achievement. |
| 3 | | Skadovsk became home to any and all who could reach it. Fierce stalkers resistance did not stop the bandits from making regular (and ultimately unsuccessful) attempts to establish their so-called "order" on the ship. Despite the ongoing struggle, the Skadovsk carried on its unique brand of life. | Do not obtain either the One of Ours or Boss achievement. |
Bloodsucker Lair
Edit
| # | Slide | Voice-over narration | In-game condition |
| --- | --- | --- | --- |
| 1 | | Unfortunately, it didn't last long. Bloodsuckers from the lair near the Skadovsk found a way to the ship. When Bloodsucker attacks began to occur even in broad daylight, it was decided to mount an assault on the lair. Unfortunately, the hunters failed to advance deep into the tunnels, and soon afterwards a wave of Bloodsuckers annihilated all the ship's residents in one fell swoop. | Do not wipe out the bloodsucker lair during Bloodsucker Lair. |
| 2 | | With the destruction of the Bloodsucker Lair, it's unlikely that anything could significantly change the state of affairs on the Skadovsk. The old ship became a temporary center of stability in the ever-changing world that is the Zone. | Complete Bloodsucker Lair with the bloodsucker nest destroyed. |
| # | Slide | Voice-over narration | In-game condition |
| --- | --- | --- | --- |
| 1 | | Freedom managed to earn the trust of stalkers at Yanov Station. Duty organized an assault in an attempt to regain lost ground, and Lieutenant Colonel Shulga was killed in a firefight soon after. The Duty squad never recovered from the loss of its commander and quickly fell apart. | Complete Monolith survivors, Duty History, Duty warehouse and In Search of Magpie in Freedom's favor, and obtain the A Friend of Freedom achievement. |
| 2 | | Reinforcements and growing popularity among stalkers allowed Duty's advance squad to rid Yanov Station of Freedom. The ensuing firefight saw Loki and what was left of his squad eliminated for good. | Complete Monolith survivors, Duty History, Duty warehouse and In Search of Magpie in Duty's favor, and obtain the A Friend of Duty achievement. |
| 3 | | A fragile balance was reached between Freedom and Duty squads at Yanov Station. Tired of the endless struggle, fighters of both factions started leaving their squads and joining the free stalkers. | Do not obtain either the A Friend of Duty or A Friend of Freedom achievement. |
| # | Slide | Voice-over narration | In-game condition |
| --- | --- | --- | --- |
| 1 | | The scientific expedition organized by Professors Hermann and Ozersky was a success. The data they collected facilitated the development of groundbreaking medicine and technology, which prompted the Ministry of Education to allocate additional funding for researching in the Zone. | Obtain the Research Assistant achievement. |
| 2 | | Professors Hermann and Ozersky are forced to cut short their scientific expedition in the Zone due to a lack of data. On returning to the outside world, the two scientists proceeded to engage in unrelated work. | Do not obtain the Research Assistant achievement. |
| # | Slide | Voice-over narration | In-game condition |
| --- | --- | --- | --- |
| 1 | | Garry's stories about the Army's struggle against the dangers of Pripyat encouraged stalkers to explore the ghost town. Despite the constant Monolith attacks, stalkers managed to secure the former Army camp, which they used as a base to launch raids deep in the city, making slow but steady progress. | Complete Evacuation with Lieutenant Kirillov, Lieutenant Rogovets, Lieutenant Podorozhny, WO Valentyr and Captain Tarasov alive. |
| 2 | | Garry's stories about the Army's fate scared stalkers away from Pripyat. The few who dared to venture into the city ran into inexplicable phenomena, which added further dark strokes to an already gloomy picture of the dead city. | Complete Evacuation with Kirillov, Rogovets, Podorozhny, Valentyr and/or Tarasov dead. |
| # | Slide | Voice-over narration | In-game condition |
| --- | --- | --- | --- |
| 1 | | The legend of the Oasis stopped being a legend. The identity of those who managed to find a way to this secret anomaly became an increasingly topic of conversations among stalkers. Despite this, the number of adventurers trying to find it remained high - something the bandits were quick to take advantage of, with constant offers to lead the stalkers to the Oasis... which usually ended in muggings at a safe distance away from stalkers camps. | Complete Oasis and return the Heart of the Oasis to Ozersky. |
| # | Slide | Voice-over narration | In-game condition |
| --- | --- | --- | --- |
| 1 | | Organized mercenary squads continue to be active in the Zone. Their interest in the secret laboratories is becoming increasingly difficult for USS operatives to ignore. Attempts to establish the identity of the client who hired the mercenaries proved unsuccessful. | Complete One Shot regardless of the outcome. |
| # | Slide | Voice-over narration | In-game condition |
| --- | --- | --- | --- |
| 1 | | The area around Yanov station continues to attract growing numbers of stalkers. The lack of dangerous mutants and abundance of anomalous areas have led to the area being referred to as a "treasure trove" with increasing regularity. | Complete Night Hunt. |
| 2 | | The area around Yanov station gained the reputation for being one of the most dangerous places in the Zone. Fewer and fewer stalkers make it back from raids, many dying at the hands of mutants within view of the camp. One of those missing is Trapper, who set out to track down a Chimera on what appears to have been his last hunt. | Do not complete Night Hunt. |
| # | Slide | Voice-over narration | In-game condition |
| --- | --- | --- | --- |
| 1 | | Zulu returned to Duty's main base at the Rostok plant. Nobody knows what he discussed with the leader of Duty, General Voronin, but several days later he was spotted at the head of a large squad on its way to the center of the Zone. | Complete Pripyat 1 with Zulu alive and rescue him at the School. |
| 2 | | Rumors of Zulu's fate reached the leader of Duty, General Voronin. Counter to most expectations, Voronin decided to posthumously award Zulu with the Silver Shield, Duty's highest decoration. | Complete Pripyat 1 with Zulu dead, or do not rescue him at the school. |
| # | Slide | Voice-over narration | In-game condition |
| --- | --- | --- | --- |
| 1 | | Vano headed off to the Freedom-controlled Military Warehouses, where his cheerful personality and optimism quickly earned him the popularity he merited. Ultimately, he took charge of a small group of researchers involved in investigating anomalous areas. | Hire Vano for the trip to Pripyat, complete Pripyat 1 and Monolith forces with Vano alive. |
| 2 | | Stalkers at Yanov station still think of Vano now and again, recalling his light-heartedness and skills. While some aspects of his life are usually up to debate, one thing is clear: with his luck, looking for Pripyat was a big mistake. | Vano is killed during Pripyat 1 or Monolith forces. |
| # | Slide | Voice-over narration | In-game condition |
| --- | --- | --- | --- |
| 1 | | A new group appeared in the Zone. They are well-trained, but their objectives are not known. Rumors say that they used to be Monolith fighters. Their leader is known as Strider. | Hire Strider for the trip to Pripyat, complete Pripyat 1 with Strider alive. |
| 2 | | Few noticed Strider's disappearance. His desire to work out a way of helping people who fall under the Monolith's spell followed him to his grave. | Strider is killed during Pripyat 1. |
| # | Slide | Voice-over narration | In-game condition |
| --- | --- | --- | --- |
| 1 | | Senior Lieutenant Sokolov continued to take part in flying missions over the Zone. During one such recon flight over Limansk, his aircraft was shot down by mercenaries. Two weeks later, he was picked up by a patrol near the Cordon. Within a month of his rescue, Sokolov had left the Air Force, joining a civil airline instead. | Hire Sokolov for the trip to Pripyat and complete Pripyat 1, Monolith forces and Evacuation with Sokolov alive. |
| 2 | | The list of casualties suffered in the course of Operation Fairway was amended with yet another name: "Senior Lieutenant O.N. Sokolov. Died in the line of duty". | Sokolov is killed during Pripyat 1, Monolith forces or Evacuation. |
| # | Slide | Voice-over narration | In-game condition |
| --- | --- | --- | --- |
| 1 | | Owl established contacts with clients outside the Zone. He trades in information, and if rumors are true, there are regular reports sent directly to the USS. | Obtain the A Man of Balance achievement. |
| # | Slide | Voice-over narration | In-game condition |
| --- | --- | --- | --- |
| 1 | | A group of stalkers was forced to seek shelter on Noah's old barge during a particularly powerful emission. When the barge was attacked by a horde of Snorks, stalkers were forced to concede that the barge was as good as a defense against mutants as anything they'd seen. Even more astonishing was a litter of Pseudodog puppies that Noah himself led into battle against the Snorks. | Complete the game with Noah alive. |
| # | Slide | Voice-over narration | In-game condition |
| --- | --- | --- | --- |
| 1 | | Having found out about his friends' fates, Cardan gave up dreams of a stalker career. Having overcome his alcoholism, he moved to Yanov, where he partnered up with Nitro to set up a full-service repair shop. Both technicians glady devote all their spare time to building a vehicle that could operate in the Zone. | Complete Three Comrades for Cardan. |
| 2 | | Having overcome his alcoholism, Cardan left the Skadovsk. Stalkers said he went to look for his missing friends. Several days later he returned, suffering from wounds and radiation poisoning. As soon as his wounds healed, he left the Zone for the second and final time. | Do not complete Three Comrades for Cardan. |
| # | Slide | Voice-over narration | In-game condition |
| --- | --- | --- | --- |
| 1 | | Strelok passed on the information he obtained on this trip to the Chernobyl NPP to the USS commanders. This prompted the government to create a Scientific Institute for Research of the Chernobyl Anomalous Area. Strelok took up the position of Chief Scientist Consultant to the Institute. | Complete Evacuation with Strelok alive. |
| 2 | | Strelok's knowledge was lost with him. The information he found at the Chernobyl NPP, which could have been used to gain a better understanding of the Zone, remained forever within its borders. It seems the Zone knows how to keep its secrets. | Strelok is killed during Evacuation. |
| # | Slide | Voice-over narration | In-game condition |
| --- | --- | --- | --- |
| 1 | | When Colonel Kovalsky, commander of the Stingray group, returned from the Zone, he was forced to explain the reasons for the failure of Operation Fairway. Following a dragged-out investigation and the brass' failed attempt to make him the fall guy, the Colonel was finally given an honorable discharge. | Complete Evacuation with Kovalsky alive. |
| 2 | | Colonel Kovalsky, commander of the Stingray group, found his resting place not far from the majority of his squad. Their bodies were taken by the Zone, with nothing but old faded photographs left to remind the country of their sacrifice. | Kovalsky is killed during Evacuation. |