What is S.T.A.L.K.E.R.?
The S.T.A.L.K.E.R. series is an open-world sandbox, first-person shooter, with minor RPG elements and a large selection of wide-open maps with plenty to raid and explore. One of its key features is A-Life, a life-simulation system that was one of the first of its kind at the time Shadow of Chernobyl finally released. The game is set in the Zone, a place of unthinkable wonders and monstrosities that emerged in the wake of the second Chernobyl incident. The warped reality of the Zone attracted many fortune seekers, evading the government's attempt to crack down on illegal trafficking in the various artifacts that continue to trickle out of the Zone and onto the black market.
You are one of those stalkers, with a mysterious past and a future that will lead you to unravel the many mysteries the Zone tries to keep away from prying eyes...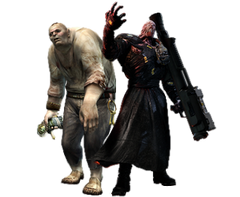 Featured Article

The SVDm-2 is a 7.62x54mmR caliber, Soviet-made semi-automatic marksman rifle that appears in S.T.A.L.K.E.R.: Shadow of Chernobyl, S.T.A.L.K.E.R.: Clear Sky and S.T.A.L.K.E.R.: Call of Pripyat. It is based on the Russian Dragunov Sniper Rifle.
In every one of its incarnations: the SVDm-2 is depicted as one of the most powerful and accurate weapons in the game. The weapon's high damage rating, coupled with its cartridge's large profile and armor penetration characteristics; allows it to tear through virtually every type of body armor located in the Zone, ensuring that even the most heavily armored stalkers are not safe from this weapon.
Gaming Affiliates