In total, there are seven technicians in S.T.A.L.K.E.R.: Clear Sky, along with several repairmen that can repair your inventory, but not upgrade it.

Each technician will give the player a task to find three flash drives for a complete upgrade offer.
Technicians
Edit
Novikov is the technician of the Clear Sky faction and the first one that can upgrade Scar's equipment. He is also the only one to be able to fully upgrade the FT-200M. In order to be able to benefit from his entire offer, three flash drives need to be retrieved for him: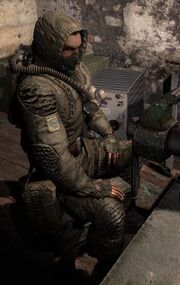 Van
is the
Cordon
technician, working for the
loners
. As with
Novikov
, retrieving flash drives is necessary to allow him to upgrade your equipment to the full extent of his ability:
Limpid
is a professional military technician who works for the
bandits
. He is located in the
Garbage
and specializes in armour upgrades. Of course, he can also upgrade a wide range of items, and he is the only technician to be able to fully upgrade the SEVA Suit, but requires flash drives in order to offer his full range of upgrades. He requires these flash drives:
Garin is the digger technician, living at the Flea Market in the Garbage. He doesn't give any missions and his upgrade offer is pretty limited, however, he is still useful to Loner sympathizers.
Uncle Yar
Edit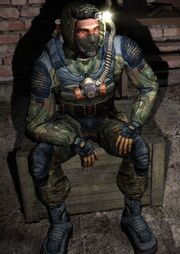 Uncle Yar is Freedom's mechanic, located in their base in the Dark Valley. He specializes in sniper rifle and precision shooting upgrades and gives out a mission to retrieve flash drives which contain information on sniper rifle upgrades:
Thunderov
Edit
Thunderov
is
Duty
's technician located in the
Agroprom Research Institute
. He specializes in firepower upgrades and is the only technician able to fully upgrade the mighty
RP-74
. As usual, he gives out a mission to retrieve flash drives: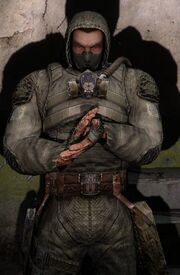 Aydar is a Loner technician in Agroprom. He is a pistol specialist and the only one who can fully upgrade the Black Kite. As with the other main technicians, he asks the player to retrieve three flash drives:
Repairmen
Edit
Apart from technicians, repairmen are also present in Clear Sky. They differ in that they do not have any upgrades available, but can repair equipment. After entering Limansk the repairmen become important characters as there are no technicians present to repair equipment in the later levels of the game. The player should seek out the squad commanders from Limansk onwards for equipment repair. It is also important to get equipment repaired by a squad commander before entering the next level as the repairman cannot be returned to in the previous level.
Community content is available under
CC-BY-SA
unless otherwise noted.