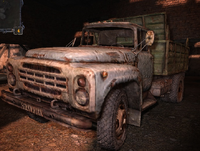 The Zavod imeni Likhachova-130 ("Factory named for Likhachov, [model] 130") is a truck developed in the Soviet Union. It was developed as a prototype from 1958-1962, first produced in 1962, and mass-produced from 1964 to 1994. It continues to be used to this day as a civilian vehicle.
Many of the ZIL-130 trucks in the zone are rusted down from the elements. Most were probably left behind by the original inhabitants of Chernobyl.
The factory was named ZiS (Zavod imeni Stalina; "Stalin's Factory") from 1931 to 1956, after dictator Josef Stalin (General Party Secretary from 1922-1953). It was renamed Zavod imeni Likhachova (ZIL) in 1956 after Ivan Alekseevich Likhachev, a former factory director.
The ZIL-130 became the first ZIL truck painted in civil white and blue colors. Before this model virtually all ZIL trucks were painted in khaki military colors.
In 1995 the design was sold to the GAZ (Gorkovsky Avtomobilny Zavod; Russian: "Gorky Automobile Factory") group. Production was transferred to the Urals Auto Motor Plant (UamZ), a GAZ sub-company, where it is currently manufactured as the UamZ-43140.
Community content is available under
CC-BY-SA
unless otherwise noted.